Legacy Five at Grand Hotel – October 2 – 4, 2023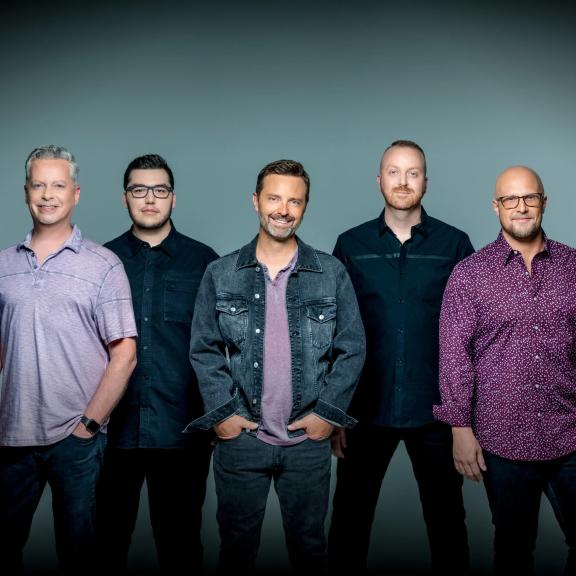 Monday, October 2 – Wednesday, October 4
Description
For the joy of it, for the magic of it, come experience Legacy Five performing live at Grand Hotel. Enjoy the Gospel and Christian music of band members:
Lee Black – Tenor
Scott Fowler – Lead Singer
Brayan Walker – Baritone
Matt Fouch – Bass
Garrett Anderson – Pianist
Package Includes:
Grand Hotel Accommodations
Breakfast and dinner daily
All Grand Hotel Amenities
Legacy Five Concert Monday evening in the Grand Hotel Theatre
Tuesday evening concert in the Grand Hotel Theatre
Complimentary admission to the Richard and Jane Manoogian Mackinac Art Museum (limited dates in October)
Special discount on ferry tickets
This Legacy Five experience can also be booked by calling our Grand Hotel Reservations Team at 1-800-334-7263.
About Legacy Five
This October, we look forward to welcoming Legacy Five back to the Grand stage. When the legendary cathedral quartet retired in December of 1999, Scott Fowler and Roger Bennett decided to continue the rich musical tradition of Southern gospel quartet singing. Legacy Five was organized and had their official debut in January 2000 in Atlanta, Georgia.
Since that day, they have made a major mark on the Southern gospel music world. Immediately, audiences responded overwhelmingly to their four-part harmony and their ability to effectively communicate the message of Christ. Since the quartet's formation, they have established and maintained a firm place at the top of Christian music. To learn more about Legacy Five, follow their Facebook page or visit their website.
View Grand Hotel Policies and Information >>
*Subject to Michigan 6% sales tax, 3% Mackinac Island assessment, and a $12.00 per person, per stay, baggage-handling charge. Regular children's rates apply. Extra charges apply for additional adults over double occupancy rates. Dates are subject to availability. A 30-day cancellation policy applies.
<>
Visit Grand Hotel Website >>>>
<>
Grand Hotel On Facebook
Below are the latest postings from the Grand Hotel Page On Facebook.
<>
<>
Visit Grand Hotel Website >>>>
<>