Grand Hotel – Fall Michigan Golf Live Package – October 8 – 10, 2023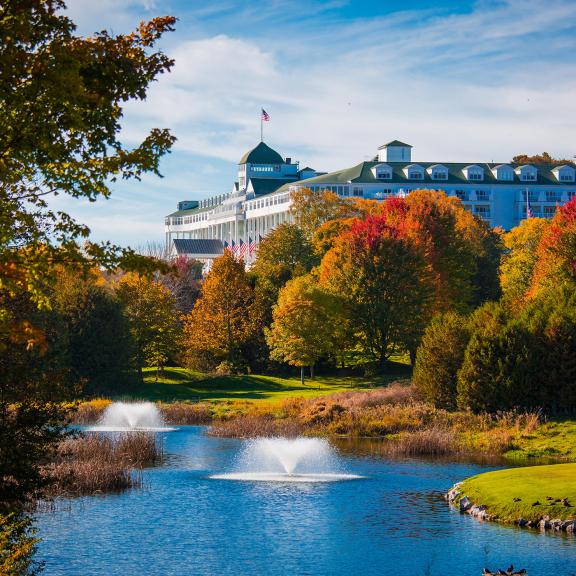 Arrive Sunday, October 8 – Depart Tuesday, October 10, 2023
Description
Tee up the vacation of a lifetime during our Fall Michigan Golf Live Package. Named for the state's leading golf program, Michigan Golf Live, show host Bill Hobson coordinates this golf event — complete with three days of unlimited golf on The Jewel, prize giveaways, private evening receptions, Monday morning golf scramble, and box lunch.
The Jewel Golf Course was designed by architect Jerry Matthews and is ranked as a top northern U.S. golf resort by Condé Nast Traveler and the Best Grand Golf Hotel by Golf Digest. It provides unforgettable views of the Straits of Mackinac, the Mackinac Bridge, and the seasonal beauty of Mackinac Island. We hope you'll come to be part of the fun, friends, and memories of this very special time at Grand Hotel!
Michigan Golf Live
Now in its 3rd decade of celebrating the greatest game on earth, Michigan Golf Live continues to grow its audience throughout the Midwest on both radio and television. Executive Producer and Host, Bill Hobson, is found behind the mic and in front of the camera every weekend of the season, with MGL Radio heard across the state on 15 stations every Saturday morning, and MGL-TV seen on FOX Sports Detroit each Saturday and Sunday at 9:30 AM.
View Michigan Golf Live
Package Includes:
Grand Hotel Accommodations
Breakfast and dinner daily
All Grand Hotel Amenities
Unlimited golf on The Jewel (cart included)
Sunday evening Welcome Reception
Monday morning golf scramble
Boxed lunches on Monday afternoon
Monday evening reception and awards presentation
Complimentary admission to the Richard and Jane Manoogian Mackinac Art Museum
Special discount on ferry tickets
This Michigan Golf Live Package can also be booked by calling Grand Hotel Reservations 1-800-334-7263.
View Grand Hotel Policies and Information >>
*Subject to Michigan 6% sales tax, 3% Mackinac Island assessment, and a $12.00 per person, per stay, baggage-handling charge. Regular children's rates apply. Extra charges apply for additional adults over double occupancy rates. Dates are subject to availability. A 30-day cancellation policy applies.
<>
Visit Grand Hotel Website >>>>
<>
Grand Hotel On Facebook
Below are the latest postings from the Grand Hotel Page On Facebook.
<>
<>
Visit Grand Hotel Website >>>>
<>