Pure Michigan Fall Color Update – October 25 – November 1, 2019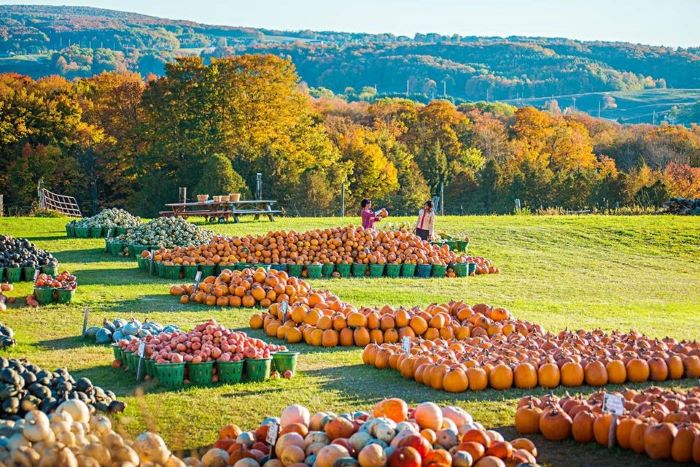 The curtain is falling on this year's fall color show for many Northern Michigan regions. But many Lower Peninsula communities are holding out for a few more days of autumn splendor.
UPPER PENINSULA
Marquette County is displaying peak color now as golden hues filter through gilded leaves on Marquette's Presque Isle Park—a serene forest that stretches out into Lake Superior. The park is only minutes away from the bustle of downtown Marquette. The shores of the Gitche Gumee—the Ojibwe name for Lake Superior—are home to the final colors of fall for Marquette County. Crimson maples and oaks blend with honeybee yellow birches and moosewood in a final salute, turning to embrace the approaching crystal quiet of winter.  St. Ignace and remaining Upper Peninsula counties are currently all at or moving past peak color.
---
NORTHWEST LOWER PENINSULA
Color seekers traveling to the Charlevoix area will find stunning autumn colors.  For a breathtaking sight, locals suggest a hike to the top of Mt. McSauba ski hill to view miles of trees ablaze with striking fall colors.
For the Grand Traverse Bay region, foliage is intensely colored further from the shoreline. This weekend is the perfect time to wander the Traverse Wine Coast, which takes the Leelanau and Old Mission Peninsulas for scenic drives off M-72, Center Road. Colors on M-22 are popping, but not as vibrant as those further inland. Peak color will settle over the Northwest region in less than one week.
---
NORTHEAST LOWER PENINSULA
Peak color has reached Northeast Lower Michigan! If you're in Alpena County, take a drive up to the Old and New Presque Isle lighthouses. Enjoy an afternoon at Ocqueoc Falls—the largest waterfall in Michigan's Lower Peninsula and the only universally-accessible waterfall in the United States. Top off your color tour with a stop at Knaebe's Mmmunchy Krunchy Apple Farm in Rogers city or Alpena's Austin Brothers Beer Company to taste the area's fresh, vibrant, robust colors of different origins.
---
WEST CENTRAL LOWER PENINSULA
Oceana County leaf peepers should start out on Oceana Drive from New Era to Pentwater for good color viewing. Along the way, stop in at Lewis Farm Market & Petting Zoo in New Era and pick up fresh, locally-sourced items from the Country Dairy farm store. Color seekers traversing the roads, paths and trails of Muskegon and Ottawa counties will find splendid color conditions this coming weekend. Colors in Grand Haven—especially along the water—have not progressed much towards the annual seasonal transformation.  However, visitors to the area will find a dusting of color in area parks and along back roads.  Visitors to the Mt. Pleasant area should plan a detour to explore the color along the trails of Deerfield Nature Park, for nice color transformation. White Lake, Silver Lake Sand Dunes, Mount Pleasant, Ludington and Grand Haven are less than one week away from prime viewing.
---
EAST CENTRAL LOWER PENINSULA
Frankenmuth's Main Street is lined with bright colors of the season, decked-out in beautiful yellow and gold adorning the trees along the road. The chilly evenings and wind are bringing the leaves to the ground more and more every morning. Don't wait too long to tour the area, or you may miss the show.  Peak viewing is anticipated to be less than one week away.
---
SOUTHWEST LOWER PENINSULA
This coming weekend is an ideal time to view local color and as you catch glimpses of Lake Michigan along the West Michigan Pike. Be sure to stop in downtown St. Joseph for unique shopping, great hiking trails and delicious food!
Trees along Blue Star Highway heading south through South Haven and Van Buren County promise good color as the grand transformation continues into the next week. Michigan's Southwest region will see peak conditions in one to two weeks.
---
SOUTHEAST LOWER PENINSULA
Fall is showing its true colors in Ann Arbor. Look out for bright yellow maple trees standing out from the crowd. See the vibrant reds and golds of autumn along the Huron River in Ypsilanti's Riverside Park, then stick around after dark to see the neon electric colors of YpsiGLOW— a downtown dance and art party featuring hundreds of glowing community and artist creations to spark your imagination. The area will experience peak color in less than one week.
Southwest and Southeast Michigan communities are expected to embrace peak conditions in one to two more weeks.  But rain and wind can change predictions quickly and bring peak color quicker than anticipated.
Look through these Michigan Fall Color Tours to help you plan a route for your next fall getaway.  Whether your interests lie in urban fun or in nature, we have the perfect fall excursion away from the hustle and bustle.
<>
Visit Pure Michigan Website >>>>
<>
<>
<>