Pure Michigan Fall Color Update – October 12, 2018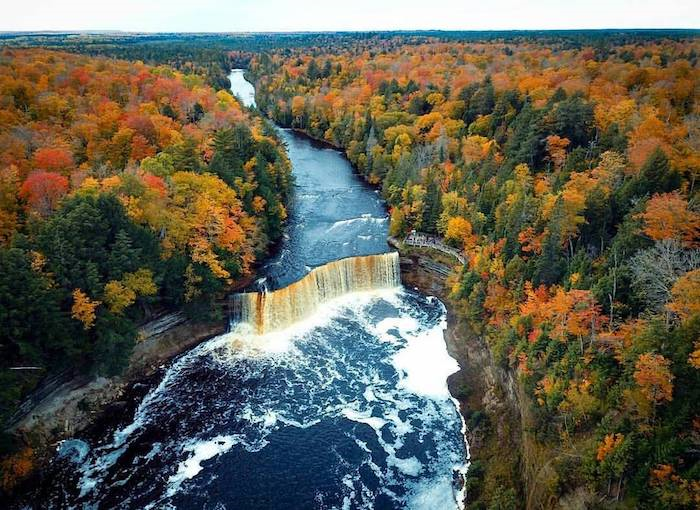 Fall color in Pure Michigan is definitely heating up. From fiery reds to blazing oranges, the color is working its way across our state quickly. Most of Michigan's Upper Peninsula is currently near or at peak color right now, while color saturation is moderate to low across most of the the Lower Peninsula.
<>
Trees around the St. Ignace area will likely peak this weekend and into the following week. Locals suggest a drive along US-2 toward Brevort Lake Road for a stunning scene, and continue along US-2 toward Naubinway for beautiful colors against the backdrop of Lake Michigan. Or, head east toward Drummond Island and take in the beautiful maple and beech dominant forest along that route. Tahquamenon Falls and the Tahquamenon Falls State Park are both must-see attractions for this Eastern Upper Peninsula is autumn.
Broad vistas above rolling hills, alive with deep reds, bright yellows and charming oranges, are how Marquette County residents love to take in the fall colors during this peak time. From a short hike up Sugarloaf Mountain, a drive up Mount Marquette, or a journey to the top of Hogsback Mountain, there's a path or trail for every ability that will bring you to the height of your week. Find your peak for fall's peak color in Marquette County.
With night temperatures dipping into the 30s, the colors are coming on fast in the Sault Ste. Marie area. The Eastern side of the Upper Peninsula is at about 50-60% saturated with fall colors. But, the further inland you venture, the color is closer to 75%. Looking for a fall adventure? The Sault is the perfect hub for a fall getaway. Make time to explore the Soo Locks Park, which is filled with amazing trees that are full of color. Local attractions and restaurants are open this weekend too.
Peak color for the Cadillac area is early this year. All four Cadillac Area Fall Color Routes are reporting brilliant color at 90% with spikes of red and gold among dark green pines. Rolling routes offer breathtaking views across valleys, river basins and our lakes. Perfect time to ride, hike, or walk–whatever your mode of transportation, grab a cozy layer and take in the cooler fresh air and snuggle up to a camp fire. Make your reservations today, forecasted weather could take leaves down.
Benzie County, Charlevoix and Ludington have had some amazing color change just in the last week with the colder temps. Color is approaching fast across the area, so. leaf peepers show visit soon.  Peak is anticipated within the next one or two weeks. The shorelines will likely peak shortly thereafter.
For the Grayling area, colors are muted—but, are close to peak. The hills near Hartwick Pines State Park on M-93 are at peak now, as well as the hills west of Frederic on County Road 612. Be sure to stop and stretch your legs at Hartwick Pines State Park's visitor center, where the color lovely. Alpena and Gaylord have good color. Peak conditions are about one or two weeks away.
The Silver Lake Sand Dunes  area has a number of breathtaking fall color drive that are currently near peak color. Trees along the main highways and secondary roads of Muskegon County are beginning to display good color with vibrant reds and some golds, and there is a smattering of yellow. Visitors to White Lake and Muskegon will experience some of Michigan's most scenic views along the Depot to Depot Fall Color Tour.  Peak color should arrive at these lakeshore communities within the next couple of weeks.
While the color has yet to "pop" in the Holland area, there're lots of ways to enjoy the fall splendor of this Lake Michigan community.  From downtown Holland head out to Holland State Park or Tunnel Park, or climb 157 feet up the wooden staircase to the top of Mt. Pisgah, where–on a clear day–you can see about 14 miles out into Lake Michigan.  The entire West Central Lower Peninsula will see peak color in one or two weeks.
Frankenmuth is full of fun fall activities, and peak tree color will be arriving just in time the  Scarecrow Fest, October 14, and Michigan's Big Country Fest, October 19-20. Frankenmuth, Bay City, Birch Run, Chesaning, Midland and Saginaw will experience peak color in one to two more weeks. 
For the active or adventurous type, the best view of the most diverse color in Michigan is at the top of nearly 300 steps at Saugatuck's Mount Baldhead. The overlook allows climbers to have a gorgeous view of Saugatuck, Douglas and the Kalamazoo River. From this view, the reds of area maples and the bright orange-yellows of local beech trees, offset by the evergreen pine trees, make a marvelous photograph and showcasess the true beauty of our state. Peak color is one or two weeks away.
Autumn hues are just starting to unfold in the charming towns of St. Joseph, Benton Harbor, Bridgman and Stevensville. Southwestern Michigan's Red Arrow Highway .has some of the area's most stunning fall color… Aspens are turning yellow, oaks a vibrant purple and maples are turning a flaming red. The communities in Southwestern Michigan are one to two weeks from peak color.
Lansing and the mid-Michigan area is still two to three weeks away from peak.  However, fall weekends have a lot in store for family fun. You won't want to miss all of the opportunities that await you at the Country Mill in Charlotte and Uncle Johns Cider Mill in St. Johns. Or, enjoy a lunch cruise on the big wheeled paddleboat upon the Grand River aboard the Michigan Princess Riverboat Color Tours.  A stroll through Michigan State University campus promises to provide good color for leaf peeper over the new few weeks. This coming weekend, visitors to the area will excite the senses with the sights, sounds and smells of autumn at the Fenner Apple Butter Festival. While in the area, hop on the Makers & Shakers Trail and take a tasting tour of Lansing's finest libations. Home to over a dozen craft wineries, microbreweries, cider mills and distilleries, mid-Michigan is making waves with its selection of spirited beverages.
Trees around Livingston County are just starting to change color. Visitors to the area will find colorful attractions at the area's local farm markets throughout the season. Kensington Metropark and Howell Nature Center make the perfect venue against beautiful fall foliage at season's peak for biking and hiking on a crisp fall afternoon.
Peak color isn't too far away in Ann Arbor! The "university city–known as Tree Town–is catching fire with red, orange and yellow tops to the trees. The University of Michigan campus is amazing in fall. In addition to beautiful autumn hues, we're seeing a lot of maize and blue around Ann Arbor as well, as the University of Michigan football team is coming off a win during homecoming weekend. Be sure to check out these fall activities throughout Washtenaw County communities. Southeast Michigan will experience prime color conditions in one to two weeks.
<>
Visit Pure Michigan Website >>>>
<>
<>
<>