Pure Michigan Fall Color Update – October 23, 2020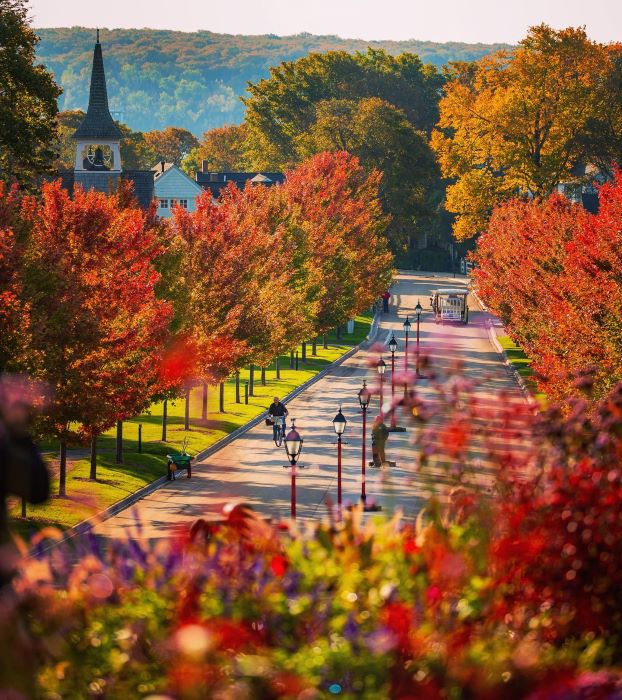 Orchards, scenic drives, and the scent of fresh, crisp air are all sure indications of autumn in Michigan. From the Keweenaw Peninsula to our southern borders, fall color will splash almost every leaf around. Experience the season in a whole new light with a fall getaway to Pure Michigan… Check out our interactive fall color map to learn more.
Fall color for the Keweenaw Peninsula has passed its peak. Only 50% of the gold and russet leaves left on the trees. Although fall color is almost done, you can still enjoy panoramic views of the Keweenaw atop Brockway Mountain Drive and other scenic drives like the M-26 shoreline, Sand Dune Drive and South Shore. For more details visit: www.keweenaw.info/recreation/fall-colors.
The Eastern Upper Peninsula's magnificent peak color season is ending. For this coming week, visitors will find stunning views near Tahquamenon Falls. You will also find good color traveling along inland routes and county highways. However, recent colder weather has caused many trees to lose their leaves.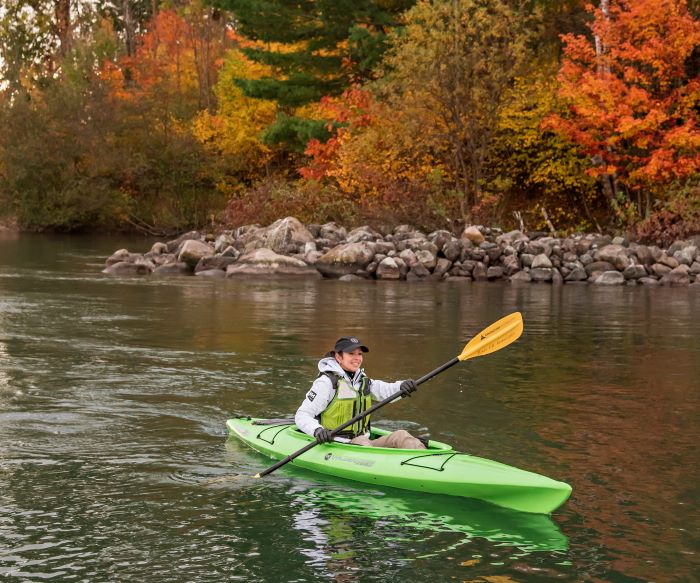 Marquette County is past peak. The leaves have fallen and what remains is a quiet stillness. Visitors to the area will find this to be the perfect time to indulge in cozy activities, such as tasting fresh pastries at 231 West Patisserie or gathering around the fire at Blackrocks Brewery with a local craft beer in hand.
Although most Upper Peninsula communities are past peak, Alger County has prime conditions now, where Munising and Pictured Rocks National Lakeshore provide your best bet to get a glimpse of the area's amazing fall scenery. Mackinac Island is reporting to be about one week from peak color transformation.
Northern Michigan forests have reached 100% of their autumn glory, so this week is the time to hop in the car and savor the beauty of the season. To catch the leaves before they fall, plan your color tour around the lakes and bays that help stretch the color out a little bit longer. Stunning drives include M-37 on Old Mission Peninsula, US-31 running north toward Elk Rapids and M-22 on the Leelanau Peninsula for beautiful views of trees and waterways. While you are in the area, let the kids explore Jacob's Farm for corn maze fun while you enjoy donuts, pizza, and local drinks at their new outdoor beer garden. See the fall colors from above with a chairlift ride at Crystal Mountain (October 23 and 25), or on a bike ride across resort grounds (October 24).
Savor a pour of local wine at the Hunt for the Reds of October event at participating Leelanau Peninsula wineries (weekdays only). Food fans indulge in wine-and-dine events at Bonobo Winery and Black Star Farms. Cheers to fall flavors and fall colors!
Cadillac area foliage has peaked, but trees are holding their leaves quite well. If you have not yet taken a color drive, this year is a MUST. All four routes in the area are in full-color bloom. Download suggested routes at www.cadillacmichigan.com/365-days/fall and check out the noted attractions and eateries along each route. Weekend thunderstorms may take additional leaves to the ground. So, book your Cadillac getaway now at www.cadillacmichigan.com/stay.
North East Michigan's River Road Scenic Byway in Oscoda is boasting brilliant color– and there's still time to take a drive to popular viewing areas to see the season's best fall color. Explore Eagle Run, Foote Pond, Canoer's Monument, Lumberman's Monument and the beautiful Largo Springs for an amazing fall excursion!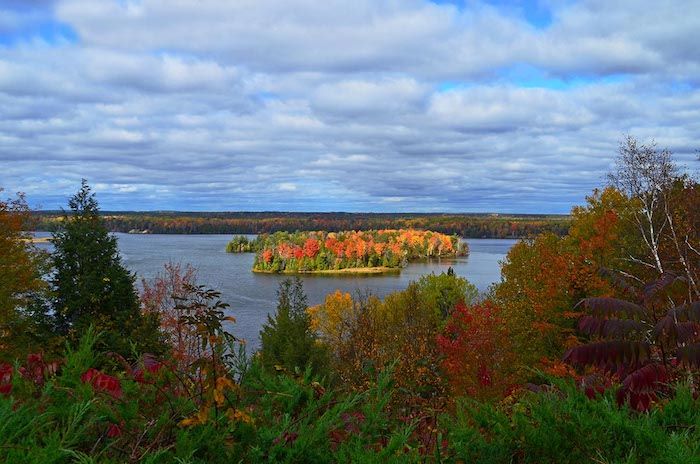 The Silver Lake Sand Dunes – Hart area has an amazing palette of fall color. Cruise B-15 and North Lakeshore drive along the Lake Michigan shoreline for the best color this coming weekend.
The colors of summer have nearly gone away in Frankenmuth. The reds and yellows of Fall are abundant when you stroll Main Street. Board the Bavarian Belle or Frankenmuth FunShips on the Cass River for a fascination display of color along the river's bank. Linger long enough to enjoy the fall activities at Grandpa Tiny's Farm, a trek through Frankenmuth Corn Maze, or the last weekend of the Scarecrow Fest at River Place Shops.
Things are heating up in Southwest Michigan. The Saugatuck-Douglas area is displaying peak conditions now. South Haven will see peak color in one to two weeks.
The communities in and around Berrien County are one to two weeks from peak, with a patchwork of beautiful shades of red, yellow, russet and purple. Locals expect the color to be on display through the end of October. Pair your color excursion with a visit to the Southwestern Michigan Makers Trail.
Kensington Metro Park in Livingston County is showcasing a full peak explosion of crimson, yellow, orange and gold trees, bursting around the boardwalk that surrounds the lake. The park's rare albino doe gave birth to twin fawns last year. Nature enthusiasts can see the resident white doe grazing deep in the woods against a canvas of dazzling fall color.
https://www.spinalcolumnonline.com/articles/rare-albino-deer-has-fawns-at-kensington-metropark-2/
The Ann Arbor area is at peak color right now. Brilliant fall colors are visible everywhere you look in "Tree Town." Walk down the sidewalks of the Old West Side, drive down Huron Parkway or tour the University of Michigan campus to take advantage of the show. Visit the Waterloo Recreation Area in Chelsea, the largest park in the Lower Peninsula, consisting of more than 20,000 acres. At Waterloo, you will see all the splendor that fall has to offer.
<>
Visit this week's fall color report at Pure Michigan >>>>
<>
<>