[gmap name='lakegogebic' lat='46.590957′ lng='-89.581318′ zoom='9′ width='510′ height='410′ desc='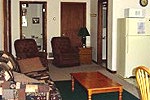 The Timbers Resort
HWY M-28
Bergland, MI 49910
906-575-3542
Visit Website']
o
Lake Gogebic Fall Color Lodging

Western U.P. Fall Color Progression
Here is a handy collection of photos showing how the fall color progresses in the Western Upper Peninsula. (Click On Photo To Enlarge) more...
The Timbers Resort – Bergland
A Great Family Resort open year round for hunters, fishermen, hikers, skiers, sightseers, snowmobilers and more. We are located on the North end of Lake Gogebic on Hwy 28 in Bergland, Michigan. The Timbers is open year round with nine comfortable housekeeping cottages that can accommodate from one to ten guests and are fully furnished.Full [...] more...