Mackinac Island Great Turtle Trail Run – October 26, 2019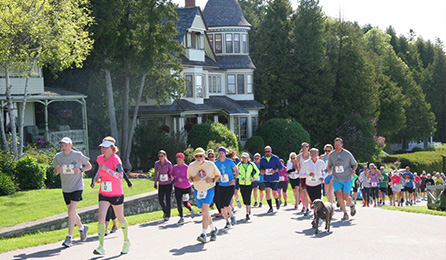 This year marks the 24th running of one of the most scenic trail events in the state. We have a capacity of 3,000 participants running and walking the inside trails of Mackinac Island during the last open weekend of the season.
All who register will enjoy special race features – commemorative medals, a race apparel in Great Turtle fashion, special Halloween events for adults and kids, great end-of-season sales – plus the beauty of late fall on the Island.
Special Rates at Mission Point Resort for the Trio Series!
Mission Point is holding rooms for all three events at special rates – and if you call to reserve the rooms and tell them you are doing the Trio, you will receive a 10% discount. Call 800-833-7711 to get the 10% Trio discount.
FREE Race Photos!
This year we are offering FREE race photos to all of our participants. Photos will be provided to all race participants. You can view and share your photos on your results page at no additional fee.
Location
The Great Turtle Half Marathon will start directly in front of the Mission Point Resort.
The 5.7 Mile Run and Walk will start directly in front of the Straights Lodge of the Mission Point Resort, at the corner of Wendall Street and Mission Street.
The finish line for all events will be located in the park, just off the main road, also in front of Mission Point Resort.
Starting Times
The 5.7 Mile Run & Walk will start at 11:30 AM
The Half Marathon will start at 11:45 AM
<>
Visit Mackinac Island Great Turtle Website >>>>
<>