THE 60th ANNUAL MACKINAC BRIDGE WALK – September 4, 2017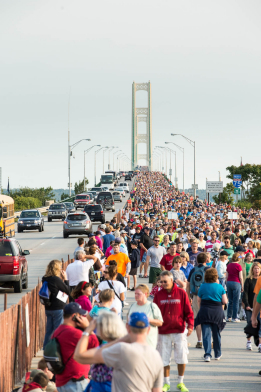 The Mackinac Bridge Authority, the St. Ignace Chamber of Commerce and the Greater Mackinaw Area Chamber of Commerce would like to make your BRIDGE WALK as pleasant as possible and offer the following information:
NO Fees or Registration
There is NO FEE or registration to participate in the walk. Bus transportation from Mackinaw City to St. Ignace is available at $5 per person (infants are free).
Bridge walk starts at 7:00 a.m.
The walk begins at 7:00 a.m. You may START walking anytime after the Governor's party starts the walk at approximately 7:00 a.m. NO ONE WILL BE PERMITTED TO START AFTER 11:00 a.m., so ARRIVE EARLY.
Walk Route, Transportation and Parking
The walk begins in St. Ignace, at the north end of the Mackinac Bridge in the UPPER PENINSULA, and ends in Mackinaw City at the south end in the LOWER PENINSULA. To begin the walk you may:
Drive to St. Ignace, park your vehicle, walk the bridge and then return to St. Ignace on school buses provided by the Mackinac Bridge Authority. There is limited parking space available west of the Mackinac Bridge Authority plaza area. Parking is also available at Little Bear East Arena with shuttle service provided. The bus loading area is located at Conkling Park and the State Dock on South Huron Avenue in Mackinaw City, or
Buy your tickets in Mackinaw City at the bus loading area, board a bus to St. Ignace, walk the bridge and then return to your vehicle. The buses are hired for your convenience by the Mackinac Bridge Authority. The Authority strongly advises walkers to arrange for their own transportation to the starting point because of the increasing demand on the buses. Tickets go on sale and buses begin transporting walkers at 5:30 a.m. from Mackinaw City. Bus service from Mackinaw City to St. Ignace will end at 2:30 p.m. Handicap buses will be available. A limit of two people may accompany the handicapped person on the handicap bus.
<>
Visit Mackinac Bridge Walk Website >>>>
<>
Mackinac Bridge – Photos From Instagram
Tag your 2015 Mackinac Bridge Walk instagram photos with #mackinacbridge and they will appear here in our Mackinac Bridge Instagram Photo Stream.


<>
Visit Mackinac Bridge Walk Website >>>>
<>