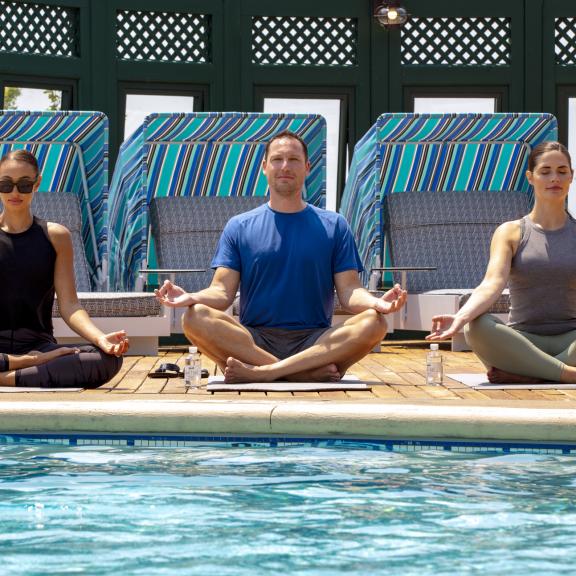 Arrive Friday, September 8 • Depart Sunday, September 10, 20223
Description
Experience something new by slowing down. This Wellness Weekend Retreat at Grand Hotel will help you recharge, be present and learn how to experience a more meaningful life. There is no better place to disconnect to reconnect than Mackinac Island.
Friday
Opening Circle + Laughter Yoga
Gentle Yoga + Sound Bath
Saturday
Morning Yoga + Meditation
Koshas + The Higher Self
Art Therapy
Ayurvedic Massage + Restorative Yoga
Yoga Nidra + Sound Bath
Sunday
Morning Yoga
Closing Circle
Package Includes:
Grand Hotel Accommodations
Breakfast and dinner daily
Special welcome amenity
Wellness activities throughout the weekend including yoga sessions, art therapy and more
Complimentary admission to the Richard and Jane Manoogian Mackinac Art Museum
Special discount on ferry tickets
This Wellness Retreat Weekend can also be booked by calling Grand Hotel Reservations at 1-800-334-7263.
View Grand Hotel Policies and Information >>
Ego Vs. Love (Higher Self) Lecture – includes self-affirmations to use for when the ego feels triggered. Handouts attached.
Self-Care with Ayurveda – Ayurveda is the sister science to yoga. It is the oldest medical system on the planet. This lecture includes a quiz for students to understand their Ayurvedic dosha and information on keeping their dosic constitution balanced. I include the practice of Abhyanga, a self-massage technique using herbal oils that are specific to the participant's dosha. This can be followed by restorative yoga, which is very slow, meditative, and nourishing.
Laughter Yoga – the practice of pure joy and playfulness. This is great for group bonding at an opening circle. It opens hearts, minds, and lifts spirits. Awesome ice breaker.
Koshas – the five layers of the human experience and how to practice self-care for every part of your being. I believe that this is information every person should have to understand themselves better. Ancient wisdom for our modern lives.
Yoga Nidra – Also known as yogic sleep this is a guided meditation designed specifically to calm the nervous system and create deep nourishing rest. Good for the last part of the day, can be combined with sound healing.
Sound Bath – Euphoric and transformational just begin to describe this opportunity to release that which no longer serves our highest and greatest good. Participants enjoy the sounds of antique Tibetan singing bowls, alchemy quartz crystal singing bowls, koshi chimes and symphonic gongs. These healing vibrations will touch every cell of the physical body while balancing our energetic, spiritual, and emotional selves.
Art Therapy – Using the right side of our brain is important. It's the part of the brain that remembers we are connected to everyone and everything. It's often a place where people feel challenged and have little breakthroughs. We tend to lose touch with our creative side as we age.
*Subject to Michigan 6% sales tax, 3% Mackinac Island assessment, and a $12.00 per person, per stay, baggage-handling charge. Regular children's rates apply. Extra charges apply for additional adults over double occupancy rates. Dates are subject to availability. A 30-day cancellation policy applies.
<>
Visit Grand Hotel Website >>>>
<>
Grand Hotel On Facebook
Below are the latest postings from the Grand Hotel Page On Facebook.
<>
<>
Visit Grand Hotel Website >>>>
<>